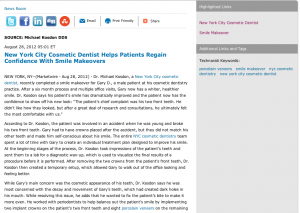 New York, NY–Dr. Michael Kosdon, a New York City cosmetic dentist, recently completed a smile makeover for Gary D., a male patient at his cosmetic dentistry practice. After a six month process and multiple office visits, Gary now has a whiter, healthier smile. Dr. Kosdon says his patient's smile has dramatically improved and the patient now has the confidence to show off his new look: "The patient's chief complaint was his two front teeth. He didn't like how they looked, but after a great deal of research and consultations, he ultimately felt the most comfortable with us."
According to Dr. Kosdon, the patient was involved in an accident when he was young and broke his two front teeth. Gary had to have crowns placed after the accident, but they did not match his other teeth and made him self-conscious about his smile. The entire NYC cosmetic dentistry team spent a lot of time with Gary to create an individual treatment plan designed to improve his smile. At the beginning stages of the process, Dr. Kosdon took impressions of the patient's teeth and sent them to a lab for a diagnostic wax-up, which is used to visualize the final results of a procedure before it is performed. After removing the two crowns from the patient's front teeth, Dr. Kosdon then created a temporary setup, which allowed Gary to walk out of the office looking and feeling better.
While Gary's main concern was the cosmetic appearance of his teeth, Dr. Kosdon says he was most concerned with the decay and movement of Gary's teeth, which had created dark holes in his mouth. While resolving this issue, he adds that he wanted to fix the patient's bite to make it more even. He worked with periodontists to help balance out the patients smile by implementing two implant crowns on the patient's two front teeth and eight porcelain veneers on the remaining upper teeth. Dr. Kosdon performed Zoom® Teeth Whitening on the patient's lower teeth and did a gum lift to balance out gum tissue.
After the six month process, the Gary is more confident in his smile and Dr. Kosdon helped make it happen. Now that Gary's smile makeover is complete, Dr. Kosdon says his smile looks more natural and healthier than it has for some time. His appearance dramatically improved after undergoing the combination of procedures, and both Dr. Kosdon and Gary are thoroughly satisfied with the results.
About Michael Kosdon, DDS
Dr. Michael Kosdon completed his dental training at the University of Southern California School of Dentistry. He is trained in a wide range of dentistry options and has helped create healthier, whiter smiles using his experience and expertise. Dr. Kosdon currently maintains practices in both Los Angeles, CA and New York, NY. He is a member of the American Academy of Cosmetic Dentistry and the American Dental Association, along with other major dental organizations. Dr. Kosdon is committed to providing each patient with custom-tailored care and the most effective treatments. Having grown up with a father for a dentist, Dr. Kosdon understands the demands of cosmetic dentistry and the importance of doctor-patient relationships.
Dr. Kosdon's New York City cosmetic dentistry practice is located at 30 Central Park South, Suite 12D, New York, NY 10019. For more information about the practice, Dr. Kosdon can be reached at (212) 658-1440, online at smilesofnyc.com or facebook.com/SmilesofNYC.