Dental Implants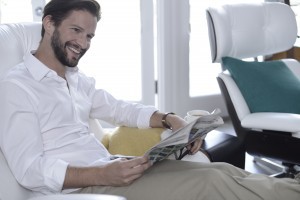 The long-term effects of missing teeth can seriously influence ones oral and medical health, the emergence of dental implants offers a number important benefits. Dental implants are a permanent solution for missing teeth that both look and feel like your natural teeth. An innovative alternative to traditional methods, dental implants are custom-designed to replace teeth, permanently anchor dentures, or provide full-mouth rehabilitations, while mimicking real teeth in both form and function. There is no maintenance required for them other than your normal daily brushing and flossing routine; and best of all, dental implants help uphold the overall health of the surrounding teeth and gums. Cosmetic dentist Dr. Michael Kosdon can restore dental implants right here at his New York City-area practice.
Please contact Dr. Kosdon for more information on dental implants.
Implant Dentistry
Although bridges and crowns, as well as partial and full dentures have been effective remedies for missing teeth for many years, they still offer significant drawbacks. Dentures are often prone to slipping and for many patients it is difficult to find a precise fit. Maintenance of these removable sets of artificial teeth can also be a hassle. Dental bridges involve grinding down the structure of the neighboring teeth and often lead to gum recession under the bridge. Because dental implants are a permanent answer, they serve as a remarkable dental restoration procedure, offering restorative benefits such as improved chewing and speaking. In addition to improved function, dental implants also enhance the appearance of your smile by giving you a replacement tooth that looks completely natural. Dental implants do not slip and provide less risk of irritating the gums. Dr. Michael Kosdon will be happy to meet with you at our New York practice to determine if dental implants may be a good option to help you attain your goals.
Dental Implant Procedure
The first step in the dental implant procedure is to determine your candidacy. Patients with missing teeth who have strong bone density in the jaws are often ideal candidates for this procedure. The process begins with our surgeon placing a strong, thin rod under the gum. This rod will be anchored to the jawbone, where it will fuse itself to the bone over a period of a few months. A temporary crown can be placed over the top of the rod during the bone fusion period. Once the rod has fused, it becomes a permanent part of your teeth. Then, Dr. Kosdon can have a permanent crown custom-made and color-tinted to match your surrounding teeth. After Dr. Kosdon has placed the crown, your dental implant should look and feel like a natural tooth.
Dental Implants and Cosmetic Dentistry
While placement of the dental implant post is major step in the process, the benefits of including a cosmetic dentist in the entire procedure are twofold. First, by having a cosmetic dentist evaluate the bite and overall structure of the mouth before the implant post is placed, patients are able to address both functional issues, as well as cosmetic concerns, which allows each specialist involved in the procedure to work together to provide optimal results. Second, by addressing all areas of concern at the same time, patients can often avoid the need for additional correctional procedures, as well as more serious health problems in the future.
Find Out if You Are a Candidate for Dental Implants
Dental implant treatment is one of the most effective and advanced dentistry techniques available, improving both the appearance of your smile and the function of your teeth. Please contact Dr. Michael Kosdon for more information.