Smile Facelift®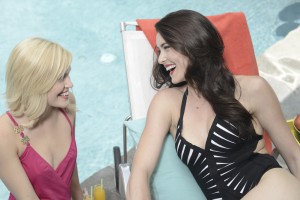 The Smile Facelift® is a non-invasive alternative to cosmetic enhancement procedures, such as face lift and injectable facial rejuvenation. By addressing all facial characteristics through aesthetic dentistry, Dr. Michael Kosdon—our skilled cosmetic dentist in NYC—can give you a more youthful, vibrant appearance. As we age, our face actually gets shorter due to teeth that become worn down, which leads to more pronounced wrinkling and an appearance that may look older than we are. The non-surgical Smile Facelift® enhances your appearance without the pain, discomfort, and downtime associated with invasive surgery.
Please contact Dr. Michael Kosdon for more information on the Smile Facelift® procedure at our Manhattan and New York City-area practice.
How the Smile Facelift® Works
Dr. Kosdon will evaluate the shape of your face, taking into account your age, skin tone, lip fullness, and the length of your teeth. Then, he will custom-fit your teeth for porcelain veneers to meet each patient's cosmetic enhancement needs as follows:
Completely rejuvenate whole face without need for surgery
Thin, sunken lips supported by increased tooth volume provide more natural, fuller look
The facial structure will be permanently lengthened to smooth out wrinkles naturally
Cheeks support will be reinforced for a younger, healthier appearance
Jaw appears stronger as it naturally repositions during treatment
Speech can be addressed through improved teeth structure
Bite coordination improves daily comfort
Porcelain dental veneers are thin and durable, hiding imperfections in your teeth and giving you a more dynamic smile. They are custom-made for the best fit possible, and they look like your natural teeth. Plus, they are known to be incredibly long-lasting, in many cases 15-20 years or more. The veneers are highly resistant to discoloration and chipping, and require only minimal changes to the teeth they are covering, so there should be little removal of the original tooth before placement. Once the veneers are in place, they should serve to improve the appearance of wrinkling, widen your smile, and give you a more youthful aesthetic – all without surgery.
Advantages of a Smile Facelift®
The aging process can lead to a shortened face, which basically causes wrinkles because of a natural compression of facial features. With a Smile Facelift®, Dr. Kosdon can address cosmetic concerns while avoiding the common risks associated with more invasive procedures.
Painless, non-surgical, non-invasive treatment
No downtime or recovery period required
Enduring results eliminate the need for repeat office visits and treatment
Overall improvement of oral health
The results of a Smile Facelift® are designed to look natural and last for a very long time. The entire procedure can be completed in just two office visits. However, the most important benefit Dr. Kosdon's patients receive from the Smile Facelift® procedure is that he can take years off your face without the use of a scalpel.
Creating a beautiful smile requires an experienced dentist with advanced training, an artistic eye, and experience with a range of dentistry procedures. Dr. Michael Kosdon not only improves your smile, but also takes years off your face with the Smile Facelift®.