A beautifully perfected smile can inspire self-confidence and make a lasting positive impression. For many individuals, correcting bothersome dental flaws or recapturing a more youthful smile can be a life changing experience. To accomplish smile makeovers like these, New York City cosmetic dentist Michael Kosdon, DDS offers high-quality porcelain veneers that can create amazing results.
Select a Topic
What Are Porcelain Veneers?
Porcelain veneers, also known as dental veneers, are a popular, virtually painless cosmetic dentistry procedure that can address a wide variety of common dental concerns. Constructed from a very thin, yet durable, ceramic material, veneers are bonded to the front of each tooth to form a beautiful, natural-looking smile.
Are Porcelain Veneers Right for Me?
Nearly anyone with good dental health and sufficient tooth enamel can be a good candidate for porcelain veneers. The versatility and conservative nature of the procedure make it ideal for accomplishing cosmetic enhancements, which used to require extensive dental treatment. If you are wondering about whether porcelain veneers are the right option for you, we encourage you to schedule a consultation with Dr. Kosdon.
Dr. Kosdon's Ceramist
In order to consistently achieve beautiful, natural-looking results for his porcelain veneers patients, Dr. Kosdon works closely with his own personal ceramist. All veneers and restorations are custom crafted according to their meticulous plans and specifications, using only the most innovative and reliable techniques. Utilizing quality materials and trusting the skill of a highly-experienced ceramist are both integral components of Dr. Kosdon's process. He believes the contributions of an expert ceramist can not be underestimated, as they significantly impact the final outcome of any porcelain veneers procedure.
What Are the Benefits of Porcelain Veneers?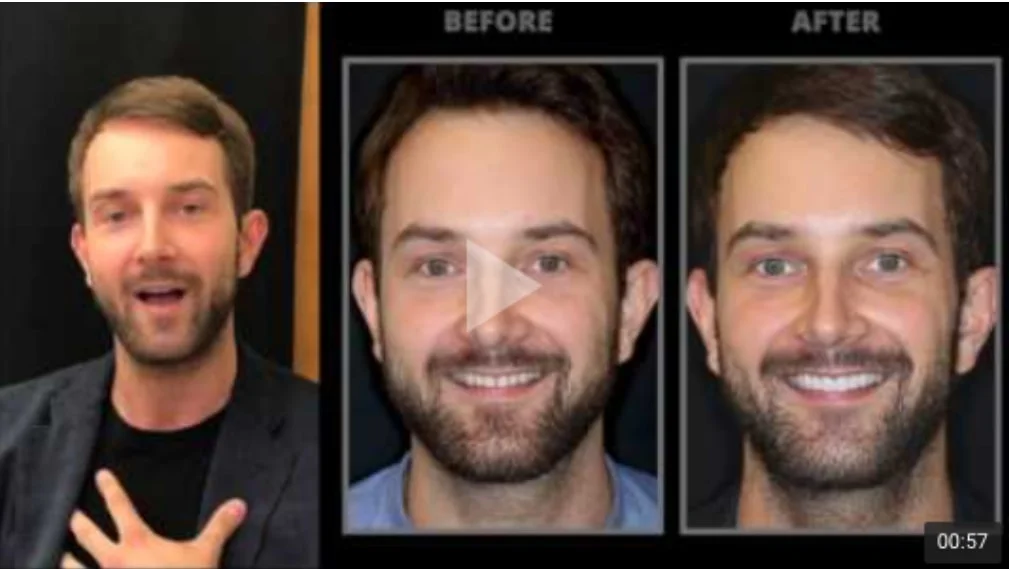 Whether Dr. Kosdon recommends porcelain veneers to cover a single tooth or a set of veneers to rejuvenate the appearance of your whole smile, this versatile procedure can deliver significant cosmetic improvements. Porcelain veneers can correct several types of tooth imperfections, including:
Chips
Cracks
Misalignment
Gaps between teeth
Deep stains and discoloration
Uneven or irregularly shaped teeth
Short or worn teeth
In some cases, porcelain veneers can even be used to improve the appearance of mildly crooked teeth in place of orthodontics. During the consultation process, Dr. Kosdon carefully examines all areas of concern and evaluates whether porcelain veneers are the best option for achieving the improvements you desire.
What Can I Expect During the Porcelain Veneers Process?
Typically, the process of improving your smile with porcelain veneers can be accomplished within the span of three visits with Dr. Kosdon. The first step is the consultation, followed by an appointment to prepare the teeth and create a temporary "trial smile", and finally the fitting and placement of your custom veneers.
Who Is a Candidate for Porcelain Veneers?
Most people who want to improve their smiles can be suitable candidates for porcelain veneers. Healthy teeth and good enamel are typically all that's required to properly support veneers. If you have any of the following issues, veneers may be a good option for enhancing your smile: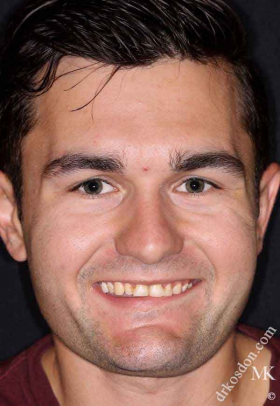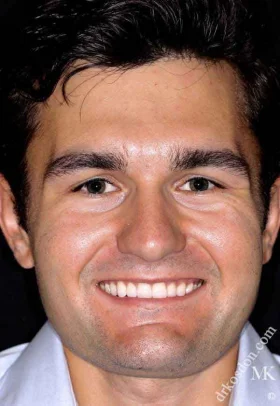 Discolored or yellowed teeth. Discolored and especially stained teeth that have not responded well to teeth whitening treatments are often well suited for veneers. It's possible to be born with dark enamel due to genetics, or you may have developed deep staining from tetracycline. Veneers can instantly conceal stained or discolored teeth.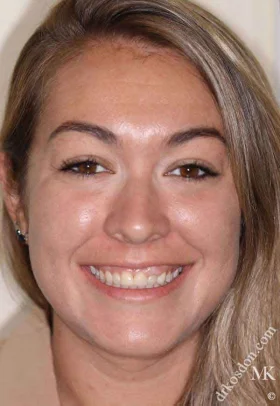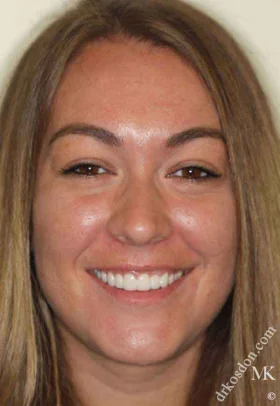 Short teeth and a gummy smile. Veneers combined with a gum lift can help patients with small teeth who reveal a disproportionate amount of gum tissue when smiling. These treatments can lengthen the appearance of teeth and reshape the gumline to achieve balanced smile proportions.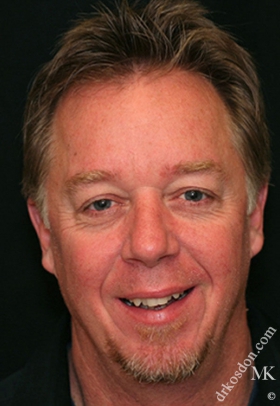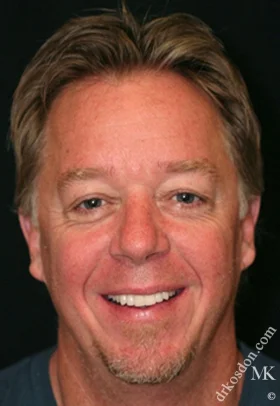 Chipped, damaged, or otherwise misshapen teeth. Veneers can beautifully repair the appearance of mildly to moderately damaged teeth. If you have had bonding done in the past to achieve cosmetic improvement, upgrading to porcelain veneers can provide long-lasting, more aesthetically pleasing results.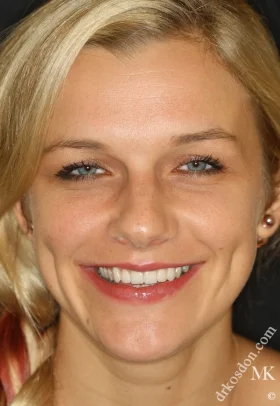 Misaligned teeth. Veneers can quickly realign the appearance of crooked, crowded, or gapped teeth. Porcelain veneers are the simplest way to correct certain alignment issues without spending months or years in orthodontic treatment. Veneers are often an exceptionally appealing option for patients whose teeth have shifted following earlier orthodontic treatment.
How Much Do Porcelain Veneers Cost In NYC?
The average price for quality porcelain veneers in NYC is between $1,000 and $4,000 (per veneer). Costs fluctuate based on a variety of factors, including the expertise of the dentist and master ceramist, along with the characteristics of the materials and fabrication techniques used to craft the veneers.
You have a lot of choices when it comes to selecting the most suitable veneers for your budget and goals. Put simply, the old saying "you get what you pay for" can be easily applied to dental veneers. For optimal cosmetic results and the longest-lasting restorations, custom porcelain veneers made from ceramic materials of the highest-quality, such as layered e.max® and feldspathic porcelain, are premium choices:
Handmade layered e.max® veneers can last for decades and closely mimic the translucency and slight color variations of natural teeth.
Highly esthetic feldspathic "contact lens" veneers are super-thin veneers that require the minimum amount of tooth preparation prior to placement. In some cases, no preparation is required at all. These veneers are meticulously handcrafted using an innovative stacking technique, which micro-layers the porcelain to deliver a superior, natural-looking appearance.
Your unique needs and goals always determine the type of veneer that is best, but both of the options featured above are considered to be first-rate veneers. Other types of quality veneers are also available and still provide great aesthetics and durability, just at a lower price. When discussing your proposed treatment plan during the consultation, Dr. Kosdon will explain the benefits and drawbacks of each alternative to make sure you get the beautiful smile you want at a cost that is reasonable to you.
Porcelain Veneers Cost Guide
The table below is intended to serve as a guide to the differences, and the relative cost, of various types of porcelain veneers. Keep in mind that every patient has specific individual needs, so a personal consultation with Dr. Kosdon is necessary to determine the appropriate treatment plan. Dr. Kosdon only utilizes quality porcelain veneers in order to achieve reliable, natural-looking results.
PORCELAIN VENEER TYPE
ESTHETICS
STRENGTH
FIT
WEARABILITY
LONGEVITY
PRICE (per Veneer)
PRESSED CERAMICS -EMAX
EXCELLENT
EXCELLENT
EXCELLENT
EXCELLENT
EXCELLENT
$2500-$3500
FELDSPATHIC CONTACT LENS
NO/MINIMAL PREP
EXCELLENT
GOOD
GOOD
GOOD
GOOD
$2750-$4000
NO-PREP LUMINEERS
Poor
Good
Poor
Ok
Poor
$1000-$2000
CAD-CAM CEREC
Poor
Good
Ok
Good
Good
$600-$1500
A few other factors that will influence the cost of porcelain veneers include the following:
Type of porcelain material
Technique used to fabricate the veneers
How many veneers are needed
How quickly the veneers are made
Complexity of the case
Degree of tooth preparation required
Any necessary dental work to improve oral health
Costs for sedation services (optional)
An accurate quote can only be provided after you have had a consultation with Dr. Kosdon. Please contact our office with any questions.
Financing & Payment Options for Porcelain Veneers
While porcelain veneers are considered a cosmetic procedure and are not typically covered by insurance, our practice offers a number of convenient dental financing and payment options that can make treatment more financially accessible to a wider range of patients. With CareCredit®, the simple application process can be completed online and approval is determined quickly. Once you are approved, you can move forward with treatment and pay off the balance of your procedure according to the payment schedule you choose. We also accept payment with major credit cards. Dr. Kosdon firmly believes that everyone should be able to attain their smile goals, and we are happy to answer any questions you may have regarding the price of treatment.
Amazing! seriously- not that anyone ENJOYS going to the dentist, but these folks are as good as they get. very informative, super nice, and overly accommodating.

love love love!
What Are the Stages of the Smile Transformation Process?
The Consultation
Dr. Kosdon believes that an in-depth consultation is a vital step toward achieving an ideal outcome with porcelain veneers. During the consultation, he takes the time to understand the unique personality of each patient, in addition to learning all about their particular goals and concerns. By using the information he gathers, performing a comprehensive smile analysis, and taking diagnostic impressions of the teeth, Dr. Kosdon is able to determine the most appropriate strategy for smile enhancement.
Teeth Preparation and Trial Smile
Once Dr. Kosdon has fully developed your porcelain veneers treatment plan, the next step is to prepare the teeth, take impressions, and create your temporary veneers or "trial smile". To prepare for veneers, a minimal amount of enamel must be removed from the front side of each tooth. Impressions are then made of the prepared teeth. These impressions enable Dr. Kosdon and his ceramist to collaborate and create custom-made veneers with a precise, accurate fit. At the end of this appointment, Dr. Kosdon will create temporary veneers to protect your prepared teeth and provide a preview of your new smile while your permanent veneers are being fabricated by his ceramist.
Bonding and Cementation of Veneers
When your custom veneers are ready, Dr. Kosdon will check the fit, shape, and color to ensure proper results, and then firmly bond your veneers in place. Once cementation is complete, he will make any necessary adjustments to perfect the appearance and provide maximum comfort.
What Is the Smile Transformation Process Like?
Dr. Kosdon's process for transforming smiles with porcelain veneers enables him to create beautifully customized smiles that patients love!
1
Consultation, Exam, & Smile Analysis
2
Smile Design, Temporary Veneers, & Veneer Refinement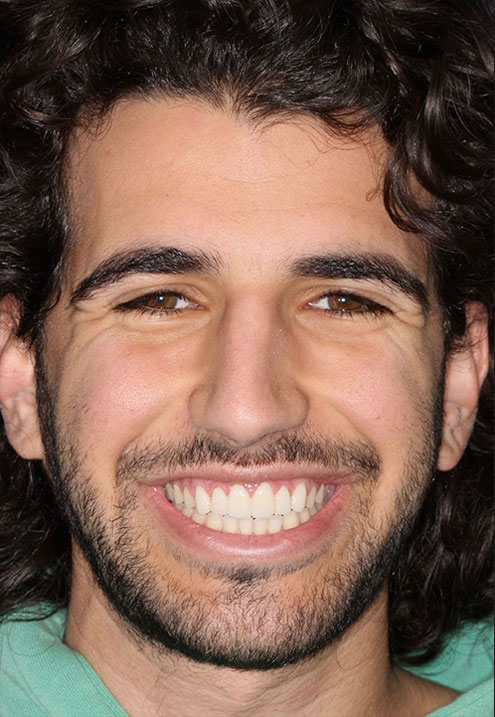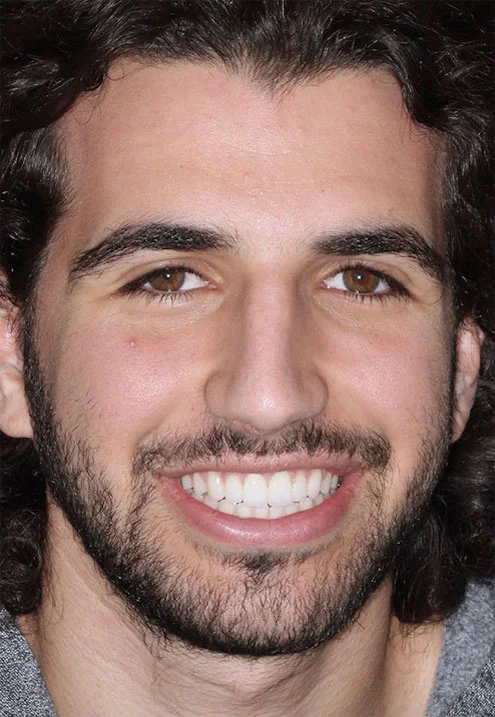 What Can I Expect after My Veneers have been Placed?
Immediately following the procedure, some patients can experience mild tooth sensitivity which dissipates quickly and generally lasts no longer than two weeks. Once you have adjusted, your teeth should feel natural, function normally, and look beautiful. If you are considering a smile makeover with veneers, we encourage you to review our photo gallery of results for visual reference. Many of our patients have transformed their teeth with veneers and are amazed by the positive impact of their new smile.
How Long Do Porcelain Veneers Last?
Due to their strength, durability, and virtually impermeable aesthetics, high-quality porcelain veneers placed by an experienced dentist can potentially last for decades or a lifetime. Veneer longevity, of course, is also dependent upon how well the patient cares for their oral health and the regularity of their professional cleanings and dental exams.
How Do I Know They Will Fit Precisely and Accurately?
Porcelain veneers are custom-made for each patient based on an impression created from your teeth at our office. This impression provides a map for the laboratory that will make your veneer, allowing for the most precise and accurate fit on the affected tooth. Each veneer will be affixed to your tooth with an incredibly strong dental cement, which is able to hold it in place for years.
What Is the Best Way to Care for My New Porcelain Veneers?
The high-quality veneers that Dr. Kosdon uses are made from extremely durable ceramic materials that withstand normal wear and resist staining; however, it is still important to maintain good hygiene habits and regular dental visits. If you are prone to clenching and grinding, wearing a nightguard is also recommended to protect your veneers. When properly cared for and maintained, it is possible for high-quality porcelain veneers to remain strong and beautiful for decades.
Why Choose Dr. Kosdon for Porcelain Veneers?
Dr. Kosdon is fully invested in the success of your smile makeover with porcelain veneers! As a top cosmetic dentist and a recipient of porcelain veneers himself, Dr. Kosdon understands better than anyone the positive impact a new smile can have on one's self-confidence and life. There was a period of Dr. Kosdon's life where he was embarrassed to laugh and smile due to short, gapped teeth and noticeable discoloration. With the help of porcelain veneers he was able to achieve the beautiful smile he always wanted and he has not stopped smiling since! His own personal smile transformation is the source of his career inspiration and he strives to deliver superior porcelain veneers results through the use of high-quality ceramic materials and his unique smile design process. When you choose Dr. Kosdon, you can trust that you have selected a cosmetic dentist who excels in his craft, loves his profession, and is deeply committed to the transformative work he is able to do for his patients each day.
Additional Frequently Asked Questions About Porcelain Veneers
Does insurance cover porcelain veneers?

Porcelain veneers are considered an elective cosmetic procedure, so insurance companies will not typically cover them. However, in cases where the veneers are performing a restorative function or are being combined with other treatments, coverage may be available. Our experienced team can help you review your benefits in order to determine whether your procedure is eligible. Even if your veneers are not covered by insurance, Dr. Kosdon believes that cost should not be a prohibitive factor for those seeking high-quality dental treatment. As a result, we offer a number of

dental financing

options, including healthcare loans through the trusted third-party lending service, CareCredit

®

.

How strong are porcelain veneers?

Porcelain veneers are crafted from a durable, high-quality dental ceramic, and they are considered to be quite strong. Many patients have found that with proper care, their veneers can last for decades. Dr. Kosdon is proud to partner with a skilled and experienced ceramist, who custom-fabricates all of his patients' veneers and restorations for optimal aesthetic and functional results. In order to best preserve the longevity of their veneers, patients are advised to maintain good oral health through brushing, flossing, and regular dental visits. To prevent damage and undue wear on your veneers, it is also recommended that you avoid actions that place excessive pressure on your teeth, such as chewing on ice or using your teeth to open packages.

Do porcelain veneers stain?

Porcelain veneers are crafted from a stain-resistant ceramic that is less porous than natural teeth, which minimizes the possibility of staining. With proper care and good oral hygiene, veneers can remain vibrant and white for a long time. That said, the health of your veneers is closely linked to your overall oral health, and proper cleaning and maintenance is important. It is also recommended that patients avoid tobacco products and certain highly-pigmented foods and beverages—such as coffee and red wine—that are known to cause discoloration.

Can porcelain veneers be whitened?

There are currently no at-home or professional whitening treatments that are effective for porcelain veneers. That said, veneers are sometimes considered a long-term whitening treatment in their own right, and the quality ceramic used to fabricate them is highly stain-resistant. During your initial consultation with Dr. Kosdon, you will discuss your desired cosmetic outcomes, including your preferred veneer color and opacity. A full-set of porcelain veneers—designed to be applied to all visible teeth— is completely customizable and may allow you to achieve whiter teeth than you could have obtained normally. However, in cases where you are only receiving a few veneers to cover imperfections, they will be matched to your existing tooth color for a more consistent and natural look. During your consultation, it is important that you are honest with Dr. Kosdon about your desired level of whiteness. He may recommend that you undergo a

teeth whitening

procedure prior to the application of your veneers so that you can obtain the tooth shade you desire while also maintaining the uniformity of your smile.

Are porcelain veneers reversible?

Porcelain veneers are traditionally considered a permanent or semi-permanent procedure due to the necessary removal of a thin layer of enamel prior to application. That said, advances in veneer technology have resulted in a number of increasingly conservative treatment options, including low-prep and no-prep veneers, which require little to no enamel removal. Dr. Kosdon will go over the various veneer options with you during your initial consultation in order to help you decide on the treatment that is best suited to your needs.

How old do you have to be to get veneers?

While there is technically no legal age limit on eligibility for porcelain veneers, most cosmetic dentists prefer that patients be at least 16 to 18 years of age. Due to the irreversible alterations that are made to your teeth during the veneer preparation process, Dr. Kosdon wants to ensure that you are finished growing and have all of your permanent teeth in place. With proper consideration, veneers can be an ideal aesthetic solution for young people with minimal misalignment issues, cracks or chips in their teeth, or mild discoloration. Dr. Kosdon will go over your options as well as the long-term effects of receiving veneers more thoroughly during your consultation.
If you are interested in finding out if porcelain veneers are right for you, we invite you to  schedule a consultation with Dr. Kosdon.