Porcelain Veneers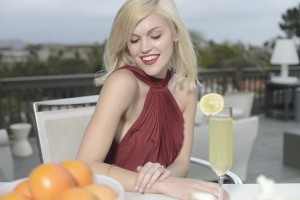 Porcelain veneers, sometimes referred to as dental veneers, give our New York, Cosmetic Dentist the ability to correct imperfections such as chips, gaps, stains, and teeth misalignment. Dr. Kosdon also utilizes porcelain veneers to reshape, lengthen or shorten teeth and create brilliant symmetrical smile makeovers. The porcelain veneer procedure is one of the most popular cosmetic dentistry treatments and it is virtually painless. Dr. Michael D. Kosdon can custom-fit these slim, durable veneers to the desired teeth, with results that both look amazing and feel natural. Plus, porcelain dental veneers can last for decades and significantly improve the appearance of your smile.
Contact the cosmetic dentistry office of Dr. Kosdon to schedule your porcelain veneers consultation at our Manhattan, New York-area practice.
How Can Porcelain Dental Veneers Help?
If you are looking to correct a major or even minor imperfection porcelain veneers can be a great option. For custom smile makeovers are also many times achieved with porcelain veneers. Certain things we eat and drink, as well as dental injuries and the natural aging process can all have a negative impact on our teeth. Porcelain dental veneers can correct both aesthetic and functional conditions such as:
Cracks
Chips
Teeth misalignment
Gaps between the teeth
Uneven smiles
Worn down teeth
Short-looking teeth
Stains and discolorations from wine and coffee-drinking, tobacco use, and other factors
In just two quick office visits, Dr. Michael Kosdon can give you long-lasting porcelain veneers that can brighten your smile and make you feel better about your teeth.
The Benefits of Porcelain Veneers
Porcelain Dental veneers play a major role in the custom smile makeover process and they offer a great advantage compared to the options available in the past. Porcelain veneers allow Dr. Kosdon to take a very conservative approach in reshaping your smile. In years past, dentists did what was referred to as, "Hollywood crowns", these Hollywood crowns looked great but the majority of the natural tooth structure had to be removed. With advancements in dentistry and dental materials, a trained and experienced cosmetic dentist can retain almost all of the natural tooth structure while still creating a picture perfect, natural looking smile.
Dr. Kosdon's Ceramist
Porcelain dental veneers are fabricated by a dental technician, or ceramist, in a dental laboratory. The skill of the ceramist is critical to the outcome of a smile makeover. What separates Dr. Kosdon's porcelain veneers and smile makeovers from other cosmetic dentists is not just his training and expertise, but also that he has his own personal ceramist who has created the teeth of celebrities such as Jonny Depp, Brad Pitt, Jennifer Anniston, and George Clooney. For every porcelain veneer procedure that Dr. Kosdon performs, he uses porcelain veneers fabricated by his ceramist.
The Porcelain Dental Veneers Process
Every porcelain veneer procedure and smile makeover is a custom process starting with a personal consultation with Dr. Kosdon. During this consultation Dr. Kosdon will take time to get to know you, your goals, and answer all of your questions regarding the procedure. He then will examine your teeth, gums, and mouth to determine if you are a candidate for porcelain veneers and if they are the best option for you. If porcelain veneers are the best option, you will be just a few appointments away from a perfect smile.
The Porcelain Dental Veneers Procedure
Porcelain dental veneers are made of a very strong ceramic material designed to last for years, even decades. The thin shells are custom-made to fit over the front part of your tooth and hide dental imperfections. After an initial impression of your teeth has been made, Dr. Kosdon will have your new veneer custom-designed and created to fit your tooth. Once it has been made, Dr. Kosdon will affix the veneer to the affected tooth. With most patients, Dr. Kosdon does not need to remove a significant portion of the original tooth before fitting the veneer. After affixing the veneer with a strong cement, Dr. Kosdon will color-tint it to match the surrounding teeth for a look and feel that is both natural and beautiful.
Results can often last decades and most people won't even know you have a porcelain dental veneer unless you tell them!