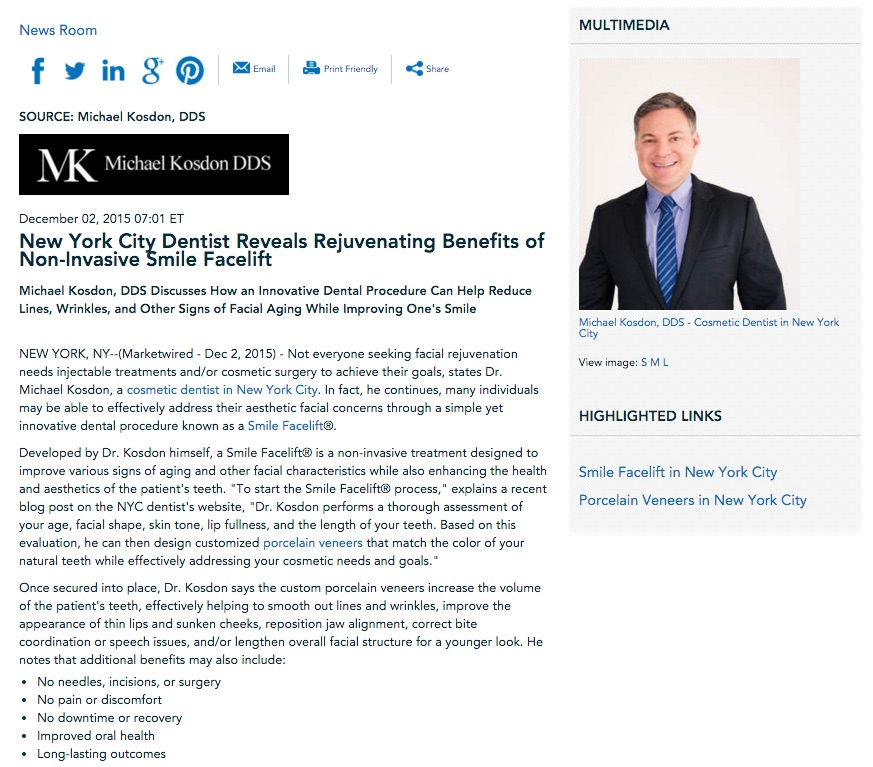 Michael Kosdon, DDS discusses how an innovative dental procedure can help reduce lines, wrinkles, and other signs of facial aging while improving one's smile.
New York, NY — Not everyone seeking facial rejuvenation needs injectable treatments and/or cosmetic surgery to achieve their goals, states Dr. Michael Kosdon, a cosmetic dentist in New York City. In fact, he continues, many individuals may be able to effectively address their aesthetic facial concerns through a simple yet innovative dental procedure known as a Smile Facelift®.
Developed by Dr. Kosdon himself, a Smile Facelift® is a non-invasive treatment designed to improve various signs of aging and other facial characteristics while also enhancing the health and aesthetics of the patient's teeth. "To start the Smile Facelift® process," explains a recent blog post on the NYC dentist's website, "Dr. Kosdon performs a thorough assessment of your age, facial shape, skin tone, lip fullness, and the length of your teeth. Based on this evaluation, he can then design customized porcelain veneers that match the color of your natural teeth while effectively addressing your cosmetic needs and goals."
Once secured into place, Dr. Kosdon says the custom porcelain veneers increase the volume of the patient's teeth, effectively helping to smooth out lines and wrinkles, improve the appearance of thin lips and sunken cheeks, reposition jaw alignment, correct bite coordination or speech issues, and/or lengthen overall facial structure for a younger look. He notes that additional benefits may also include:
No needles, incisions, or surgery
No pain or discomfort
No downtime or recovery
Improved oral health
Long-lasting outcomes
Ultimately, Dr. Kosdon states that the entire Smile Facelift® can often be completed in as little as two office visits, and patients are able to enjoy their rejuvenated facial appearance and beautiful, healthy smile as soon as the veneers are placed.
About Michael Kosdon, DDS
Trained at the esteemed USC School of Dentistry and the prestigious Las Vegas Institute for Advanced Dental Studies, Dr. Michael Kosdon offers an expansive array of cosmetic, restorative, and preventative dental treatments and services. He is a member of both the American Dental Association and the American Academy of Cosmetic Dentistry, and he has devoted his entire career to helping patients achieve healthy teeth and beautiful smiles through the safest, most effective techniques available. Licensed in both New York and California, Dr. Kosdon has offices in Manhattan and North Hollywood. He is available for interview upon request.
For more information, visit smilesofnyc.com or facebook.com/SmilesofNYC.
Contact:
Michael Kosdon, DDS
New York City
150 East 58th St
8th Floor Annex
New York, NY 10155
(212) 658-1440
Beverly Hills
465 N Roxbury Drive
Suite 701
Beverly Hills, CA 90210
(310) 853-8928
Rosemont Media
(858) 200-0044
www.rosemontmedia.com