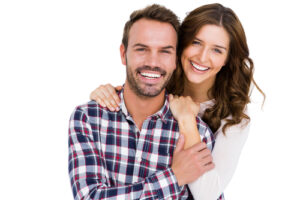 Thankfully, there is an effective, state-of-the-art solution for correcting the appearance of excess gum (gingival) tissue. Gum recontouring with a dental laser allows NYC cosmetic dentist Michael Kosdon, DDS to precisely sculpt the gumline for an improved gum-to-tooth ratio. When compared to older methods of gum recontouring which required manual excision of gum tissue, modern laser gum lift techniques can offer several important benefits:
Minimally invasive
Requires only local anesthetic
Faster treatment and healing
Improved comfort during and after treatment
Minimal, if any, bleeding
Minor post-treatment discomfort can be treated with anti-inflammatory medication
Significantly reduced risk of infection
High-quality cosmetic results
There are many situations in which excess gum tissue can affect the aesthetics of the smile:
"Gummy smile" – Excess gum tissue throughout the gumline—which can look thick and/or shorten the crowns of the teeth—affects the proportions and overall appearance of the smile. Using a dental laser, Dr. Kosdon can perform a gummy smile reduction. He can evenly remove and sculpt gum tissue to reveal more of each tooth, create a proportionate gumline, and achieve a more symmetrical smile.
Short teeth – When teeth appear short, Dr. Kosdon may be able to remove some of the gum tissue to expose more of the crown. In some cases, he may also add porcelain veneers to these teeth to provide additional length for optimal cosmetic results.
Uneven gum tissue – Excess gum tissue in specific areas of the gumline can cause the appearance of a crooked or uneven smile. Gum tissue may be especially thick between two particular teeth, or conceal only certain teeth. Using his keen artistic eye and advanced skill in laser dentistry, Dr. Kosdon can make precise adjustments for a more symmetrical and beautiful smile.
Dental lasers are often used to assist with and fine-tune a variety of cosmetic and restorative procedures, including porcelain veneers, porcelain crowns, and dental implants. Additionally, laser dentistry techniques offer ways to effectively treat gum disease (periodontal treatments), quickly harden tooth-colored composite material, and reduce tooth sensitivity.
If you have cosmetic smile concerns caused by excess gum tissue, we encourage you to contact our practice to schedule a consultation with Dr. Kosdon. During the appointment, he will evaluate your teeth and gum tissue and recommend a customized treatment plan designed to give you a beautiful, natural-looking smile you can be proud of.