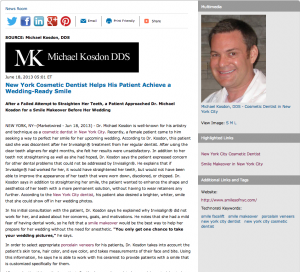 After a failed attempt to straighten her teeth, a patient approached Dr. Michael Kosdon for a smile makeover before her wedding.
New York, NY — Dr. Michael Kosdon is well-known for his artistry and technique as a cosmetic dentist in New York City. Recently, a female patient came to him seeking a way to perfect her smile for her upcoming wedding. According to Dr. Kosdon, this patient said she was discontent after her Invisalign® treatment from her regular dentist. After using the clear teeth aligners for eight months, she felt her results were unsatisfactory. In addition to her teeth not straightening as well as she had hoped, Dr. Kosdon says the patient expressed concern for other dental problems that could not be addressed by Invisalign®. He explains that if Invisalign® had worked for her, it would have straightened her teeth, but would not have been able to improve the appearance of her teeth that were worn down, discolored, or chipped. Dr. Kosdon says in addition to straightening her smile, the patient wanted to enhance the shape and aesthetics of her teeth with a more permanent solution, without having to wear retainers any further. According to the New York City dentist, his patient also desired a brighter, whiter, smile that she could show off in her wedding photos.
In his initial consultation with the patient, Dr. Kosdon says he explained why Invisalign® did not work for her, and asked about her concerns, goals, and motivations. He notes that she had a mild fear of having dental work, so he felt that a smile makeover would be the best way to help her prepare for her wedding without the need for anesthetic. "You only get one chance to take your wedding pictures," he says.
In order to select appropriate porcelain veneers for his patients, Dr. Kosdon takes into account the patient's skin tone, hair color, and eye color, and takes measurements of their face and bite. Using this information, he says he is able to work with his ceramist to provide patients with a smile that is customized specifically for them.
After evaluating this particular patient, Dr. Kosdon says he sculpted a porcelain material onto her teeth, creating a few different "trial smiles." After choosing the look she felt was best, Dr. Kosdon explains he was able to have the "trial smile" created in his office in about an hour and a half. The patient was sent home with the temporary veneers as a way for her to get used to her new appearance. Once the patient confirmed that she was happy with the results, Dr. Kosdon says he sent her information to his laboratory, where the permanent veneers were created. When the patient returned to the New York City cosmetic dentistry practice, Dr. Kosdon says he was able to attach six conservative upper veneers, leaving the bride-to-be with a beautiful, wedding-ready smile.
About Michael Kosdon, DDS
Trained in dentistry at the prestigious USC School of Dentistry, Dr. Michael Kosdon currently practices cosmetic dentistry in New York, as well as Los Angeles. He is a member of several prestigious dental organizations, including the American Academy of Cosmetic Dentistry. At his cosmetic dentistry practices, he offers a wide variety of dental options, including the Smile Facelift®, teeth whitening, porcelain veneers, dental implants, and smile makeovers. Dr. Kosdon is available for interview upon request.