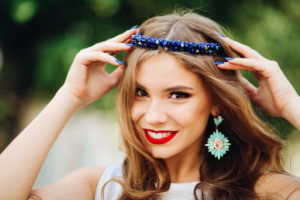 If you are not satisfied with the shade of your all-porcelain crowns when they return from the ceramist's dental lab, it's possible make color adjustments without making an entirely new set of restorations. Since ceramic crowns are color-stable, they cannot be bleached with whitening methods and must be sent back to the ceramist.
At the lab, the process used to change the shade of your crowns will depend on the way they were initially fabricated. As cosmetic dentist, Michael Kosdon, DDS explains, there are two methods for creating custom-coloration with pressable ceramics:
Stained: With the first approach, the crown is crafted of a lighter porcelain and then a superficial stain is added to achieve the desired hue. To adjust the coloration of this type of crown post-fabrication, the stain can be removed to reveal a whiter appearance.
Stacked: When crowns are made using a cut-back technique, layers of colored porcelain are added or "stacked" onto the pressed crown to create natural-looking color and translucence. To achieve a lighter shade, some of the stacked ceramic material can be removed and a lighter shade can be re-stacked onto the crown.
Dr. Kosdon's Master Ceramist creates all of his patients' dental restorations and prosthetics according to detailed instructions. He uses only the highest-quality materials and techniques to deliver results that look natural and fit precisely. When patients request color changes (or other adjustments involving shape and fit) to their crowns before they are permanently cemented, requests are typically accommodated with a reasonable turnaround.
If you have more questions about all-ceramic restorations, or if you would like to schedule a consultation with Dr. Kosdon, please contact our office.