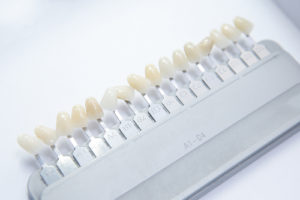 Selecting the proper color for your porcelain veneers can feel like a big decision; however, it is a process that an experienced cosmetic dentist like Michael Kosdon, DDS can easily walk you through. Before deciding on the right shade of veneer, Dr. Kosdon will want to discuss the condition of your teeth, what you'd like to change about the color of your smile, and the final results you'd like to achieve.
Depending on the current hue of your teeth and your goals, the treatment plan can vary significantly, so it's important to clearly communicate the outcome you desire—whether it's a smile that is "Hollywood" white, or a more natural-looking shade. When designing a smile makeover, Dr. Kosdon always considers the skin tone, eye color, and personality type of the individual. These characteristics help him choose a shade that is complementary to both their aesthetic and lifestyle. To avoid an unnatural result, he always recommends that patients choose a shade that is no whiter than the whites of their eyes. For some, combining teeth whitening and four to six veneers may provide the desired result, while for others, more veneers may be necessary to conceal all the visible top and bottom teeth for a complete transformation.
If you are interested in learning more about the custom smile makeover process at our practice, we encourage you to schedule a consultation with Dr. Kosdon.