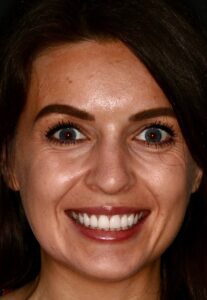 Our cosmetic dentist, Michael Kosdon, DDS, has a unique approach to improving the health, function, and beauty of his patients' smiles, which allows him to consistently achieve the superior results that have helped build his stellar reputation. His unique approach to smile design and smile makeovers helps him achieve top-quality, natural-looking results for each patient. Often, Dr. Kosdon's patients experience improvements not only in the appearance of their smile, but enhanced facial beauty and confidence, as well. 
Guided by the Golden Proportion philosophy, Dr. Kosdon designs smiles that deliver maximum aesthetic benefit to his patients. He considers facial characteristics, including eye color, skin tone, face shape, and other key features, to develop attractive new smiles that suit each patient's personality and lifestyle.
If you are curious about how cosmetic dentistry options like high-quality porcelain veneers, dental implants, and many others can transform the health and look of your smile, we encourage you to schedule a consultation with Dr. Kosdon.
Editor's note: The original version of this post was published on May 2, 2017.