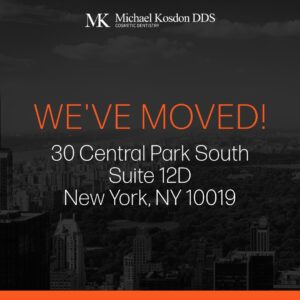 Our team has an exciting announcement to make: we have moved our practice to Central Park South! Our cosmetic dentist, Michael Kosdon, DDS is ecstatic about this new office, which we trust will provide a wonderful new home for our practice.
Our upgraded location is spacious, pristine, and equipped with state-of-the-art technology. While the space is large enough to accommodate multiple patients, we prioritized comfort while designing its layout in order to create a warm, intimate environment for all who visit. As always, we will uphold strict sanitization methods at our new office, using FDA-approved sterilizers and EPA-registered disinfectants for the safety of our staff and clientele.
In addition, we have chosen to move our office to Central Park South so patients can enjoy its charm as much as we do. The neighborhood is known for its culture and beautiful architecture, and is home to some of the best shopping and dining in the city. While Dr. Kosdon performs your dental implant procedure, teeth whitening session, or other advanced treatment, you can absorb breathtaking views of Central Park across the street.
The new office is located at 30 Central Park South, Suite 12 D. For more information or to schedule a consultation with Dr. Kosdon, we welcome you to contact us today.