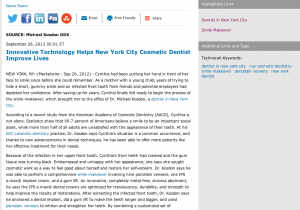 New York, NY — Cynthia had been putting her hand in front of her face to smile since before she could remember. As a mother with a young child, years of trying to hide a short, gummy smile and an infected front tooth from friends and potential employers had depleted her confidence. After saving up for years, Cynthia finally felt ready to begin the process of the smile makeover, which brought her to the office of Dr. Michael Kosdon, a dentist in New York City.
According to a recent study from the American Academy of Cosmetic Dentistry (AACD), Cynthia is not alone. Statistics show that 99.7 percent of Americans believe a smile to be an important social asset, while more than half of all adults are unsatisfied with the appearance of their teeth. At his NYC cosmetic dentistry practice, Dr. Kosdon says Cynthia's situation is a common occurrence, and thanks to new advancements in dental techniques, he has been able to offer more patients like her effective treatment for their needs.
Because of the infection in her upper front tooth, Cynthia's front teeth had cracked and the gum tissue was turning black. Embarrassed and unhappy with her appearance, she says she sought cosmetic work as a way to feel good about herself and restore her self-esteem. Dr. Kosdon says he was able to perform a comprehensive smile makeover involving nine porcelain veneers, one IPS e.max® implant crown, and a gum lift. An innovative, completely metal-free, zirconia abutment, he says the IPS e.max® dental crowns are optimized for translucency, durability, and strength to help improve the results of restorations. After extracting the infected front tooth, Dr. Kosdon says he anchored a dental implant, did a gum lift to make the teeth longer and bigger, and used porcelain veneers to whiten and straighten her teeth. By combining a customized set of procedures with state-of-the-art technology, Dr. Kosdon says he was able to completely rejuvenate Cynthia's appearance, as well as her self-esteem.
"With the porcelain veneers, we fixed her bite, repaired the damage from the chipping, straightened her teeth, and closed the spaces," says Dr. Kosdon. "Her whole life changed because she now feels more secure with herself, and she has more confidence to make changes in her life. It was one of those extreme life makeovers, and I'm proud to have been a part of it."
Since the procedure, Cynthia says she has noticed a dramatic change in her confidence level, from laughing with her friends to having the courage and self-assurance to start life anew each day. She says she is excited to smile, and looks forward to enjoying life without the burden of embarrassment from her teeth: "Dr. Kosdon's office feels different than any other dentist I have been to. I have not had great experiences with dental work in the past. I would go to the dentist and not go back for years. I have been going to Dr. Kosdon since 2006 and he has changed my life. I am very satisfied with the work he did and all the suggestions he had for me. I always get five-star treatment at his office."
Regardless of whether patients are looking for a comprehensive treatment like the smile makeover for Cynthia, or a single procedure such as teeth whitening, Dr. Kosdon says choosing the right cosmetic dentist is an essential step towards attaining a beautiful, more confident smile. He encourages anyone considering an aesthetic dental procedure to consult with an experienced and qualified practice before making any decisions.
About Michael Kosdon, DDS
Dr. Michael Kosdon graduated from the University of Southern California School of Dentistry and completed postgraduate training at the Las Vegas Institute for Advanced Dental Studies, a premier institution for cosmetics. He is a member of the American Academy of Cosmetic Dentistry, as well as several other professional organizations including the American Dental Association and the New York State Dental Association. Dr. Kosdon is also an Invisalign® Elite Provider.
Located at 150 East 58th Street 8th Floor Annex in New York, NY, Dr. Kosdon's practice can be reached at (212) 317-1377. He and his team can also be contacted online via the websites smilesofnyc.com or facebook.com/smilesofnyc.