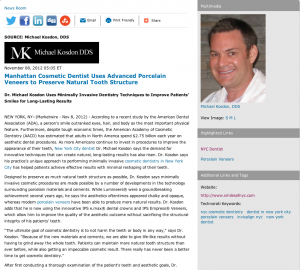 Dr. Michael Kosdon uses minimally invasive dentistry techniques to improve patients' smiles for long-lasting results.
New York, NY — According to a recent study by the American Dental Association (ADA), a person's smile outranked eyes, hair, and body as the most important physical feature. Furthermore, despite tough economic times, the American Academy of Cosmetic Dentistry (AACD) has estimated that adults in North America spend $2.75 billion each year on aesthetic dental procedures. As more Americans continue to invest in procedures to improve the appearance of their teeth, New York City dentist Dr. Michael Kosdon says the demand for innovative techniques that can create natural, long-lasting results has also risen. Dr. Kosdon says his practice's unique approach to performing minimally invasive cosmetic dentistry in New York City has helped patients achieve effective results with minimal reshaping of their teeth.
Designed to preserve as much natural tooth structure as possible, Dr. Kosdon says minimally invasive cosmetic procedures are made possible by a number of developments in the technology surrounding porcelain materials and cements. While Lumineers® were a groundbreaking achievement several years ago, he says the aesthetics oftentimes appeared chalky and opaque, whereas modern porcelain veneers have been able to produce more natural results. Dr. Kosdon adds that he is now using the innovative IPS e.max® dental crowns and IPS Empress® Veneers, which allow him to improve the quality of the aesthetic outcome without sacrificing the structural integrity of his patients' teeth.
"The ultimate goal of cosmetic dentistry is to not harm the teeth or body in any way," says Dr. Kosdon. "Because of the new materials and cements, we are able to give life-like results without having to grind away the whole tooth. Patients can maintain more natural tooth structure than ever before, while also getting an impeccable cosmetic result. There really has never been a better time to get cosmetic dentistry."
After first conducting a thorough examination of the patient's teeth and aesthetic goals, Dr. Kosdon says he is able to construct a personalized treatment plan and begin customizing the porcelain veneers so they are tailored for a perfect look and a comfortable fit. Because each veneer is handmade using the latest technology, he says he can ensure each tooth only needs minimal reshaping in preparation for the final restoration. By preserving as much of the natural tooth structure as possible, Dr. Kosdon says patients can enjoy long-lasting results and a healthy, durable smile.
While minimally invasive veneers and conservative cosmetic dentistry can produce an exceptional outcome, Dr. Kosdon says not everyone is a good candidate for these types of procedures, and adds that patients should be sure to consult with an experienced and qualified dentist before undergoing treatment. Regardless of whether they are looking for routine cleanings or Invisalign®, he also urges patients to select a practice dedicated to personalized and compassionate care, so as to ensure they have a comfortable, satisfactory dental experience.
About Michael Kosdon, DDS
Dr. Michael Kosdon graduated from the University of Southern California School of Dentistry and also received advanced dental training at the Las Vegas Institute. He is a member of the American Academy of Cosmetic Dentistry, the American Dental Association, and several other professional organizations. Licensed in both New York and California, Dr. Kosdon also believes in the necessity of continued education, which is why he has dedicated numerous hours to pursuing the latest advancements in both technology and dental technique.
Located at 150 East 58th Street, 8th Floor Annex in New York, NY, Dr. Kosdon's practice can be reached at (212) 317-1377. The practice can also be contacted online via the website smilesofnyc.com or facebook.com/smilesofnyc.