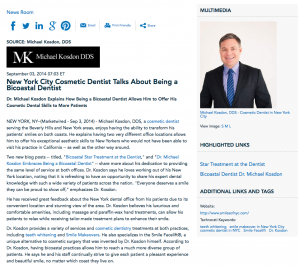 Dr. Michael Kosdon explains how being a bicoastal dentist allows him to offer his cosmetic dental skills to more patients.

New York, NY – Michael Kosdon, DDS, a cosmetic dentist serving the Beverly Hills and New York areas, enjoys having the ability to transform his patients' smiles on both coasts. He explains having two very different office locations allows him to offer his exceptional aesthetic skills to New Yorkers who would not have been able to visit his practice in California – as well as the other way around.
Two new blog posts – titled, "Bicoastal Star Treatment at the Dentist," and "Dr. Michael Kosdon Embraces Being a Bicoastal Dentist" – share more about his dedication to providing the same level of service at both offices. Dr. Kosdon says he loves working out of his New York location, noting that it is refreshing to have an opportunity to share his expert dental knowledge with such a wide variety of patients across the nation. "Everyone deserves a smile they can be proud to show off," emphasizes Dr. Kosdon.
He has received great feedback about the New York dental office from his patients due to its convenient location and stunning view of the area. Dr. Kosdon believes his luxurious and comfortable amenities, including massage and paraffin-wax hand treatments, can allow his patients to relax while receiving tailor-made treatment plans to enhance their smile.
Dr. Kosdon provides a variety of services and cosmetic dentistry treatments at both practices, including teeth whitening and Smile Makeovers. He also specializes in the Smile Facelift®, a unique alternative to cosmetic surgery that was invented by Dr. Kosdon himself. According to Dr. Kosdon, having bicoastal practices allows him to reach a much more diverse group of patients. He says he and his staff continually strive to give each patient a pleasant experience and beautiful smile, no matter which coast they live on.
About Michael Kosdon, DDS
Dr. Michael Kosdon graduated from the prestigious University of Southern California School of Dentistry and received advanced dental training from the Las Vegas Institute. He is a member of numerous dental organizations, including the American Dental Association and the American Academy of Cosmetic Dentistry. He is available for interview upon request.
For more information about Dr. Michael Kosdon and his practice, please visit smilesofnyc.com or facebook.com/SmilesofNYC.
Contact:
Michael Kosdon, DDS
New York City
150 E 58th St
8th Floor Annex
New York, NY 10155
(212) 317-1377
Beverly Hills
465 N Roxbury Dr #701,
Beverly Hills, CA 90210
(310) 853-8928
Rosemont Media
[email protected]
(858) 200-0044
www.rosemontmedia.com