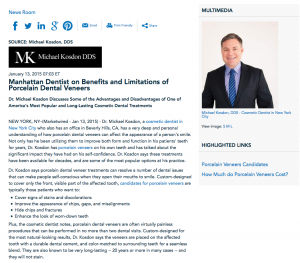 Dr. Michael Kosdon discusses some of the advantages and disadvantages of one of America's most popular and long-lasting cosmetic dental treatments.

New York, NY – Dr. Michael Kosdon, a cosmetic dentist in New York City who also has an office in Beverly Hills, CA, has a very deep and personal understanding of how porcelain dental veneers can affect the appearance of a person's smile. Not only has he been utilizing them to improve both form and function in his patients' teeth for years, Dr. Kosdon has porcelain veneers on his own teeth and has talked about the significant impact they have had on his self-confidence. Dr. Kosdon says these treatments have been available for decades, and are some of the most popular options at his practice.
Dr. Kosdon says porcelain dental veneer treatments can resolve a number of dental issues that can make people self-conscious when they open their mouths to smile. Custom-designed to cover only the front, visible part of the affected tooth, candidates for porcelain veneers are typically those patients who want to:
Cover signs of stains and discolorations
Improve the appearance of chips, gaps, and misalignments
Hide chips and fractures
Enhance the look of worn-down teeth
Plus, the cosmetic dentist notes, porcelain dental veneers are often virtually painless procedures that can be performed in no more than two dental visits. Custom-designed for the most natural-looking results, Dr. Kosdon says the veneers are placed on the affected tooth with a durable dental cement, and color-matched to surrounding teeth for a seamless blend. They are also known to be very long-lasting – 20 years or more in many cases – and they will not stain.
With that in mind, Dr. Kosdon says there are some limitations to these frequently performed dental treatments. While results often last for long periods of time, porcelain veneers are not permanent. Also, a small amount of the original tooth must be removed to accommodate the veneer with the best possible fit, making it an irreversible procedure. However, Dr. Kosdon says, advances over the years have made it possible to affix some types of veneers with little to no removal of the affected tooth. The costs of porcelain veneers are typically not covered by dental insurance, but Dr. Kosdon notes that a variety of payment options available at his practice can assist patients with making the price of veneers as convenient and affordable as possible.
Dr. Kosdon says, since porcelain veneers are designed to treat such a wide range of aesthetic dental problems, the benefits often outweigh the disadvantages. With porcelain veneers, he says, patient after patient at his practice have experienced a significant improvement in the appearance of their teeth, ultimately giving them brand new reasons to smile.
About Michael Kosdon, DDS
Dr. Michael Kosdon is a member of the American Academy of Cosmetic Dentistry and was trained at the USC School of Dentistry. He also pursued advanced training at the Las Vegas Institute. Dr. Kosdon belongs to a number of respected dental organizations, and he is licensed in both New York and California. He maintains two dental practices, serving patients on both coasts with offices in New York City and Beverly Hills with a comprehensive range of cosmetic and restorative dentistry options. Dr. Kosdon is available for interview upon request.
For more information about Dr. Michael Kosdon and his practice, please visit smilesofnyc.com or facebook.com/MichaelKosdonDDS.
Contact:
Michael Kosdon, DDS
New York City
150 East 58th St
8th Floor Annex
New York, NY 10155
212-658-1440
Beverly Hills
465 N Roxbury Dr
Suite 701
Beverly Hills, CA 90210
(310) 277-7700
Rosemont Media
(858) 200-0044
www.rosemontmedia.com