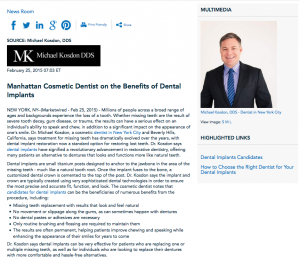 New York, NY – Millions of people across a broad range of ages and backgrounds experience the loss of a tooth. Whether missing teeth are the result of severe tooth decay, gum disease, or trauma, the results can have a serious affect on an individual's ability to speak and chew, in addition to a significant impact on the appearance of one's smile. Dr. Michael Kosdon, a cosmetic dentist in New York City and Beverly Hills, California, says treatment for missing teeth has dramatically evolved over the years, with dental implant restoration now a standard option for restoring lost teeth. Dr. Kosdon says dental implants have signified a revolutionary advancement in restorative dentistry, offering many patients an alternative to dentures that looks and functions more like natural teeth.
Dental implants are small titanium posts designed to anchor to the jawbone in the area of the missing teeth – much like a natural tooth root. Once the implant fuses to the bone, a customized dental crown is cemented to the top of the post. Dr. Kosdon says the implant and crown are typically created using very sophisticated dental technologies in order to ensure the most precise and accurate fit, function, and look. The cosmetic dentist notes that candidates for dental implants can be the beneficiaries of numerous benefits from the procedure, including:
Missing teeth replacement with results that look and feel natural
No movement or slippage along the gums, as can sometimes happen with dentures
No dental pastes or adhesives are necessary
Only routine brushing and flossing are required to maintain them
The results are often permanent, helping patients improve chewing and speaking while enhancing the appearance of their smiles for years to come
Dr. Kosdon says dental implants can be very effective for patients who are replacing one or multiple missing teeth, as well as for individuals who are looking to replace their dentures with more comfortable and hassle-free alternatives.
While dental implants are advanced procedures that have been performed in patients of varying ages all over the world, Dr. Kosdon notes that it is very important for patients to do research in order to choose the right dentist for dental implant restoration. He says experienced cosmetic dentists who provide comprehensive oral evaluations to evaluate one's candidacy for dental implants, create detailed treatment plans, and develop customized porcelain crowns to complete the final step of the dental implant process are crucial to helping patients achieve successful results. With a skilled team of professionals who are proficient in implant dentistry, Dr. Kosdon says patients can obtain replacement teeth that look and feel so natural it may be difficult to distinguish the implants from the original teeth.
Ultimately, Dr. Kosdon says, dental implants have proven to be a major breakthrough in restorative dentistry that can improve one's livelihood in addition to the appearance of their smile.
About Michael Kosdon, DDS
Dr. Michael Kosdon is a member of the American Academy of Cosmetic Dentistry and the American Dental Association. Educated and trained at the Las Vegas Institute and USC School of Dentistry, Dr. Kosdon practices in both California and New York, with offices in New York City and Beverly Hills. In addition to dental implant restoration, Dr. Kosdon offers porcelain veneers, teeth whitening, full smile makeovers, and many other cosmetic and restorative dental care options. He is available for interview upon request.
For more information about Dr. Michael Kosdon and his practice, please visit smilesofnyc.com or facebook.com/SmilesofNYC.
Contact:
Michael Kosdon, DDS
New York City
150 East 58th St
8th Floor Annex
New York, NY 10155
212-658-1440
Beverly Hills
465 N Roxbury Dr
Suite 701
Beverly Hills, CA 90210
(310) 853-8928
Rosemont Media
(858) 200-0044
www.rosemontmedia.com