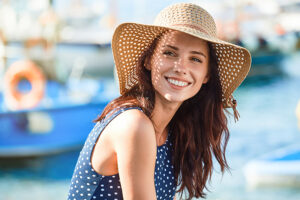 When you have a gap between your front two teeth, porcelain veneers may be used to provide an effective solution for improving the appearance of your smile. NYC cosmetic dentist Michael Kosdon, DDS, often recommends high-quality veneers to change the size, shape, color, and alignment of teeth with beautiful, long-lasting results. While cosmetic bonding may be an alternative option for closing gaps between teeth and concealing an array of other aesthetic imperfections, the composite material does not last as long as porcelain veneers and may need to be replaced after several years. For those who want their results to last for decades with proper care, custom porcelain veneers are always the superior choice.
The number of veneers that is necessary to narrow or close a gap between the two front teeth depends mainly upon the size of the gap. For smaller spaces, it is sometimes possible to use only two porcelain veneers to achieve results that are natural-looking. When gaps are larger, using two veneers can make the two front teeth appear overly large, so Dr. Kosdon typically prefers to use between four and six veneers across the front teeth to create optimal balance for a beautiful smile. The use of more veneers also helps to ensure that the front teeth remain a consistent shade of white over time. The quality porcelain veneers that Dr. Kosdon uses are highly stain-resistant and durable; however, natural teeth can become discolored and contrast with the whiteness of the veneers. If you are not interested in additional veneers for your visible teeth, teeth whitening treatments on non-veneered teeth can also be an effective way to maintain an even, white smile.
The best way to find out if you are a good candidate for porcelain veneers is to schedule a consultation with Dr. Kosdon. During the appointment he will perform a thorough evaluation of your teeth, discuss your goals, and develop a customized plan for creating the beautiful smile you desire.
Editor's note: The original version of this post was published on December 27, 2017.