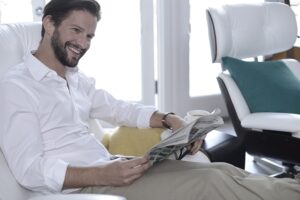 While composite veneers can provide a quick, temporary cosmetic fix for chipped, damaged, gapped, or discolored teeth, high-quality porcelain veneers are always the right choice when you desire natural-looking, long-lasting results. NYC cosmetic dentist Michael Kosdon, DDS explains that there are many key differences between these two cosmetic options:
Material: Composite resin is an artificial material, essentially a type of plastic, whereas porcelain is an organic natural glass material. Over time, composite veneers can become dull, stained, and worn because they lack the durable coloration, shine, and structure that porcelain provides.
Aesthetics: Porcelain can closely mimic the look of natural tooth material. The handmade ceramic layering techniques that Dr. Kosdon's ceramist uses in the laboratory create exquisite porcelain veneers. This highly controlled fabrication process also allows for consistency, symmetry, and optimal coloration among the veneers. Composite resin, on the other hand, is a liquid plastic material that is layered directly onto each tooth, shaped, and buffed. This process is very challenging to master, and it is difficult to create great-looking results unless your dentist is incredibly skilled in this method. Furthermore, composite material does not resemble tooth material as closely as porcelain, and the aesthetics degrade relatively quickly.
Feel: The strength and structural characteristics of porcelain allow the veneers to be made ultra-thin and retain a smooth surface over time. Comparatively, composite veneers can often feel thick and rough. The majority of patients say their porcelain veneers feel virtually indistinguishable from their natural teeth.
Treatment time: While composite veneers can be completed within the span of one visit, custom porcelain veneers require two visits to your cosmetic dentist. In the long-run, however, high-quality porcelain veneers will require significantly fewer maintenance visits than composite veneers.
Longevity: With proper fabrication, placement, hygiene, and protection, durable porcelain veneers should last for decades. Dr. Kosdon provides each of his porcelain veneer patients with a custom night guard to protect their veneers during sleep. Composite veneers, on the other hand, require replacement every few years.
Cost: Top-quality composite veneers may be half as much or a third of the cost of porcelain veneers; however, if you are looking to make a lasting investment in your smile, porcelain veneers are the superior choice. Over time, the maintenance and replacement costs that can accumulate with composite veneers make a good case for the long-term affordability and value of porcelain veneers.
If you are interested in learning more about porcelain veneers or the specialized process Dr. Kosdon uses to create stunning smile makeovers with veneers, we encourage you to schedule a consultation. During this one-on-one appointment with Dr. Kosdon, you can explain your cosmetic concerns, explore your options, and together decide which treatment or procedure is best for achieving your goals!
Editor's note: The original version of this post was published on February 28, 2018.