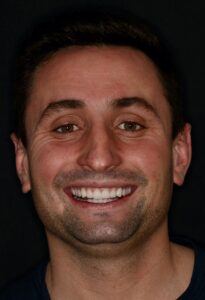 While it is a common belief that porcelain veneers last between 10 and 15 years, the truth is that today's high-quality porcelain veneers have the potential to last for multiple decades. New York City cosmetic dentist Michael Kosdon, DDS explains that when porcelain veneers are designed, fabricated, and placed in keeping with the highest standards in aesthetic dentistry, the results can withstand the test of time. Proper care and protection are also critical for maximizing the lifespan of veneers.
What Are Porcelain Veneers?
Veneers are thin, sturdy, custom-designed strips of material that attach to a tooth in order to improve its function and aesthetic quality. The best veneers are meant to look as natural as possible while simultaneously bringing out the beauty in your smile. While veneers can be made in a number of different materials (often composite resin), porcelain is the most damage- and stain-resistant, and most of our patients find them the most aesthetically pleasing, as well.
Maintenance
The key to keeping veneers around for as long as possible is proper maintenance — not just of the veneers themselves, but of your own oral care. Though they are very strong and durable, veneers can eventually become damaged by the intense forces inflicted by nighttime teeth grinding and clenching. Fortunately, this concern can often be easily mitigated with a custom mouth guard. In addition, dental hygiene is paramount for keeping the teeth that support the veneers healthy, strong, and free of decay. Those with veneers are encouraged to attend their regular exams and cleanings.
When it comes to veneers, choosing a highly-respected cosmetic dentist is essential. Dr. Kosdon is happy to meet with you for a virtual consultation or in-person appointment to discuss your options. Request an appointment today.
Editor's note: The original version of this post was published on October 18, 2017.