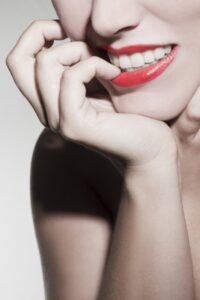 In our previous blog post, we reviewed two ways to quickly whiten and brighten your teeth before a wedding or special occasion. In this follow-up post, we will reveal how porcelain veneers can give you a brand new smile in just a few office visits.
While professional teeth whitening is a fast and cost-effective method of improving the look of your smile for your next special occasion, porcelain veneers are able to transform a smile for patients with chipped, crooked, or cracked teeth. Especially during wedding season, we see many patients who want to address these dental issues in a timely fashion so they can show off their new teeth and smile confidently for the camera.
Porcelain veneers give patients an opportunity to dramatically change the appearance of a smile, often within only two weeks. In addition to helping your smile look its best and brightest, porcelain veneers can also fix structural issues – such as cracked and misaligned teeth – which can contribute to tooth decay if not corrected. After just a few visits to our New York City cosmetic dentistry practice, you could have a brand new smile ready to be captured in beautiful photographs that will last a lifetime. If you are a bride or groom getting ready for your big day, give yourself the gift of the wedding – and the smile – of your dreams.
Contact Us For More Information
To learn more about porcelain veneers, teeth whitening, or to schedule an appointment with Dr. Kosdon, please contact our office today.