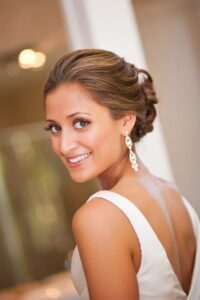 At our New York City cosmetic dentistry practice, wedding season always brings in a rush of patients seeking to give their smiles a boost before their big day. Weddings and cameras go hand-in-hand, and our patients want their smiles bright and beaming for these special occasions. As a result, each Spring we help brides and grooms spruce up the appearance of their teeth for photographs – and smiles – that will be remembered for years to come.
The fastest and most cost effective way to rejuvenate a smile is professional teeth whitening. We offer two different types of whitening methods at our practice: at-home trays and Zoom!® teeth whitening treatments. At-home whitening kits utilize trays that are tailored to fit each individual's unique smile and a powerful gel that can lighten your teeth to the shade you desire. Unlike over-the-counter products, our at-home whitening treatments are custom-designed to reach and brighten every inch of your smile.
Zoom!® teeth whitening treatments are performed in our office and are very effective at erasing stains from coffee, wine, tobacco, and even the natural aging process. Using oxygen to bleach the tooth's enamel and dentin, Zoom!® whitening can lighten your teeth up to ten shades whiter in a single office visit. For brides and grooms pressured for time, this method of teeth whitening offers the fastest results.
Check back soon to read the next installment of our 2-part blog series on renewing your smile for your upcoming wedding or special event. Our next blog post will focus on porcelain veneers and how they can quickly rejuvenate chipped, crooked, or broken teeth – often within only two weeks.
Contact Us For More Information
To learn more about at-home or Zoom!® whitening treatments, or to schedule an appointment with Dr. Kosdon, please contact us today.