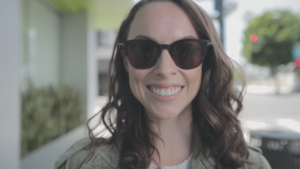 Many patients are surprised to find out that our New York City cosmetic dentist can correct an overbite or underbite with porcelain veneers. While some types of severe bite concerns may require orthodontic correction, Dr. Michael Kosdon is often able to custom-design a set of veneers that can create optimal bite alignment and eliminate the aesthetic concerns associated with an overbite or underbite. Additionally, patients benefit from the wide range of other aesthetic smile enhancements that can be achieved with porcelain veneers.
As one of the most versatile cosmetic dentistry options, porcelain veneers can change the size, shape, color, spacing, alignment, and length of the teeth to create a beautifully perfected, and yet still entirely natural-looking, smile. Dr. Kosdon is renowned for his ability to design incredible smile makeovers with veneers. His comprehensive smile evaluation and design process relies upon the latest technology and his keen eye for smile aesthetics. The smiles he designs take into account the individual's personal smile concerns, lifestyle, goals, priorities, and budget to create beautiful smile masterpieces that are as unique as the patient. Best of all, he utilizes only the highest-quality materials and the masterful skill of an experienced ceramicist to ensure his patients receive veneers that are durable, natural-looking, and optimally fitted for comfort and long-lasting results.
Are you considering a smile makeover with porcelain veneers? Trust your smile to one of the best cosmetic dentists in the country! Contact our practice to schedule your personal consultation with Dr. Kosdon.