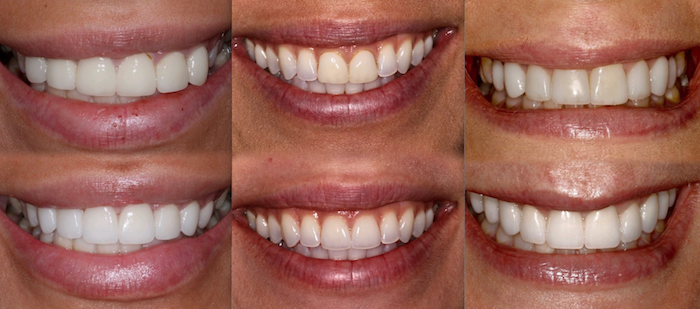 Many patients seek Dr. Michael Kosdon's expertise when it comes time to fine-tune, upgrade, or entirely replace dental work performed by another dentist. Whether individuals are dissatisfied with the appearance or integrity of their porcelain veneers, crowns, bonding, bridges, dentures, or dental implant restorations, Dr. Kosdon has the advanced skill and experience to help them finally achieve beautiful, long-lasting, functional results through revisional cosmetic and restorative dentistry procedures.
Common reasons for dissatisfaction with dental work can include:
Aging, discolored, or low-quality materials
Ill-fitting or poorly designed restorations
Damage caused by shifting teeth or unbalanced bite forces
Poorly planned or executed dental work performed by another dentist
Broken or damaged restorations
Mismatched coloration
Unnatural-looking restorations
Decay or other dental issues compromising the integrity of restorations
Depending on your specific concerns, aesthetic goals, and the current condition of your dental work, Dr. Kosdon can develop a highly customized treatment plan to achieve beautiful, long-lasting improvements to your smile. Revisional cosmetic and restorative dental work at our practice begins with a comprehensive assessment of your dental health, an examination of your dental work, and a full cosmetic analysis of your smile. Dr. Kosdon uses the latest technology, state-of-the-art equipment, and the highest-quality porcelain ceramic materials to transform your smile into a brilliant, custom-crafted masterpiece that can last for decades with proper care. Because he uses only the finest materials and makes sure every detail of your treatment is precisely executed, the fit, function, and appearance of your refurbished dental work is optimized for outstanding aesthetics and longevity.
Dr. Kosdon has designed and crafted some of the most beautiful and recognizable smiles in the world, and he looks forward to helping you achieve your smile goals! To find out how revisional cosmetic dentistry can give you the smile you have always dreamed of, contact our office to schedule a consultation with Dr. Kosdon.