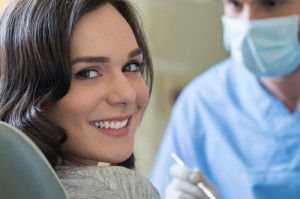 Whether you are whitening your teeth with an at-home whitening system or undergoing Zoom!® teeth whitening in one of our dental offices, sensitive teeth can become irritated during the whitening process. Aggravation of sensitive teeth can cause discomfort, which may prevent you from completing your treatment and achieving the whiter, brighter results you desire. Fortunately, there are steps that you can follow before whitening to reduce sensitivity and increase your level of comfort during treatment.
Prior to teeth whitening, Dr. Michael Kosdon recommends that patients with sensitive teeth try the following suggestions to improve their experience:
Toothpaste for sensitive teeth – In the two weeks leading up to your treatment, brush with toothpaste formulated for sensitive teeth. You can also place the toothpaste in whitening trays and place them on the teeth to allow more of the active ingredients to saturate and fortify the teeth. Wear the trays for about fifteen to twenty minutes for the best results.
Fluoride treatment– Use tooth gels and rinses that contain fluoride to help re-mineralize sensitive teeth and control discomfort. In some cases, Dr. Kosdon may apply a clinical strength fluoride treatment to strengthen the teeth before whitening.
Dr. Kosdon understands the positive impact that a radiantly white smile can have on your appearance and self-confidence, and he wants your teeth whitening procedure to be as comfortable as possible. If you have concerns about tooth sensitivity, or the methods of teeth whitening we offer, please contact our practice today with your questions.