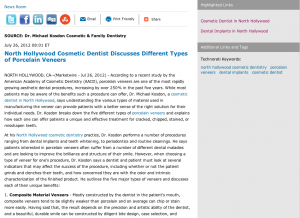 North Hollywood, CA — According to a recent study by the American Academy of Cosmetic Dentistry (AACD), porcelain veneers are one of the most rapidly growing aesthetic dental procedures, increasing by over 250% in the past five years. While most patients may be aware of the benefits such a procedure can offer, Dr. Michael Kosdon, a cosmetic dentist in North Hollywood, says understanding the various types of material used in manufacturing the veneer can provide patients with a better sense of the right solution for their individual needs. Dr. Kosdon breaks down the five different types of porcelain veneers and explains how each one can offer patients a unique and effective treatment for cracked, chipped, stained, or misshapen teeth.
At his North Hollywood cosmetic dentistry practice, Dr. Kosdon performs a number of procedures ranging from dental implants and teeth whitening, to periodontics and routine cleanings. He says patients interested in porcelain veneers often suffer from a number of different dental maladies and are looking to improve the brilliance and structure of their smile. However, when choosing a type of veneer for one's procedure, Dr. Kosdon says a dentist and patient must look at several indicators that may affect the success of the procedure, including whether or not the patient grinds and clenches their teeth, and how concerned they are with the color and intrinsic characterization of the finished product. He outlines the five major types of veneers and discusses each of their unique benefits:
1. Composite Material Veneers – Mostly constructed by the dentist in the patient's mouth, composite veneers tend to be slightly weaker than porcelain and on average can chip or stain more easily. Having said that, the result depends on the precision and artistic ability of the dentist, and a beautiful, durable smile can be constructed by diligent bite design, case selection, and exceptional polishing skills.
2. Pressed Ceramic Veneers – Because they provide both durability and natural-looking results, this type of porcelain veneer is often selected for patients who clench and grind their teeth, but who also have a high smile line. Pressed ceramic veneers are stronger than the feldspathic (stacked) type of porcelain veneers but require more thickness and therefore more tooth reshaping.
3. Feldspathic (Stacked) Ceramic Veneers – Dr. Kosdon says patients who do little or no clenching and grinding but want the highest level of aesthetics are good candidates for the feldspathic (stacked) ceramic veneers. The color and intrinsic characterization of the veneer is layered to give the dentist a greater range of design and shaping ability. While not as strong as other types of veneers, Dr. Kosdon says this particular material can offer patients a radiant, flawless smile.
4. Leucite Reinforced Pressed Ceramic Veneers – Custom made by a professional ceramist, this porcelain veneer is stronger than the rest and can be made thinner with less need for tooth reshaping. Because it is a monochromatic veneer, Dr. Kosdon says the result offers less color distinction. However, a skilled dentist has the capability to match it to a variety of different tooth shades.
5. Lithium Disilicate Veneers – The newest type of porcelain veneer, lithium disilicate veneers are much stronger than the above types and more resistant to chipping and staining. Dr. Kosdon says they are an excellent choice for teeth that are farther back in the mouth, requiring a more durable structure and less cosmetic prominence.
Dr. Kosdon says thanks to the ever-expanding field of cosmetic dentistry, more techniques and technology for improving patient smiles are emerging each year. He says through the unique and innovative types of veneers available today, patients have access to effective, long-lasting solutions to improving their dental aesthetics as well as their confidence. However, whether they are looking for porcelain veneers or dental implants in North Hollywood, Dr. Kosdon urges all patients to seek consultation with an experienced and dedicated cosmetic dentist before undergoing any procedure: "In today's fast paced society, new materials and new techniques are constantly evolving. Somebody who is up to date on the latest techniques will be able to offer the safest and most effective procedures."
About Michael Kosdon, DDS
A graduate of the University of Southern California Dental School, Dr. Michael Kosdon completed postgraduate training at the Las Vegas Institute for Advanced Dental Studies. He is a member of the American Academy of Cosmetic Dentistry, the American Dental Association, and several other professional organizations.
Dr. Kosdon's practice is located at 10545 Victory Blvd in North Hollywood, CA, reachable at (310) 277-7700. He can also be contacted online via the website modernsmiles.com, smilesofnyc.com, or the Michael Kosdon, DDS Facebook page.