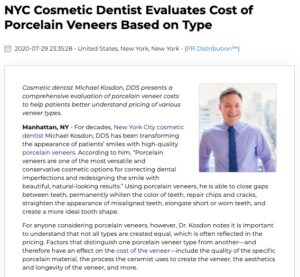 Cosmetic dentist Michael Kosdon, DDS presents a comprehensive evaluation of porcelain veneer costs to help patients better understand pricing of various veneer types.
Manhattan, NY – For decades, New York City cosmetic dentist Michael Kosdon, DDS has been transforming the appearance of patients' smiles with high-quality porcelain veneers. According to him, "Porcelain veneers are one of the most versatile and conservative cosmetic options for correcting dental imperfections and redesigning the smile with beautiful, natural-looking results." Using porcelain veneers, he is able to close gaps between teeth, permanently whiten the color of teeth, repair chips and cracks, straighten the appearance of misaligned teeth, elongate short or worn teeth, and create a more ideal tooth shape.
For anyone considering porcelain veneers, however, Dr. Kosdon notes it is important to understand that not all types are created equal, which is often reflected in the pricing. Factors that distinguish one porcelain veneer type from another—and therefore have an effect on the cost of the veneer—include the quality of the specific porcelain material, the process the ceramist uses to create the veneer, the aesthetics and longevity of the veneer, and more.
To help prospective patients more easily navigate their options and understand variances in pricing, Dr. Kosdon has provided a comprehensive porcelain veneers cost guide on his website. In this chart he compares several important features of pressed ceramic veneers (e.max®), feldspathic "contact lens" porcelain veneers, no-prep Lumineers® (Cerinate™), and CAD-CAM crafted CEREC® veneers—listing the typical approximate costs of each in the final column.
Among the veneer types compared in the guide, Dr. Kosdon believes pressed ceramic e.max veneers and no-prep/minimal-prep feldspathic "contact lens" porcelain veneers are the top two choices for high-quality smile enhancement: "Often when it comes to veneers, you get what you pay for—and lesser-quality veneers typically deliver lower-quality results, which is why I recommend hand-crafted pressed ceramic e.max® veneers and feldspathic porcelain veneers to my patients." The NYC dentist adds, "These types of porcelain veneers offer the longest-lasting, most comfortable, and most natural-looking results of any other veneers. When these high-quality veneers are crafted by my experienced master ceramist according to my exact specifications, I'm able to achieve a high rate of patient satisfaction."
During the consultation phase of the porcelain veneers process, Dr. Kosdon invests a significant amount of time evaluating the patient's teeth and smile, analyzing facial features, understanding his or her concerns, and planning a new and improved smile using advanced smile design technology. He also carefully explains each of the porcelain veneer options available, including their benefits and drawbacks, so that patients are able to make an educated decision about the type of veneer that is right for them. "My unique porcelain veneers process is designed to give patients the smile they have always wanted, taking every aspect of the aesthetics, fit, function, and longevity into account," Dr. Kosdon says. "By performing an in-depth analysis and personalizing treatment with high-quality veneers, patients are able to enjoy a beautiful, healthy, long-lasting smile that fits their goals, unique look, and lifestyle."
Individuals who are considering porcelain veneers and want to learn more about types and pricing are encouraged to contact Dr. Kosdon's Manhattan practice for additional information.
About Dr. Michael Kosdon
Dr. Michael Kosdon has decades of training and experience in cosmetic dentistry and is considered one of the top porcelain veneer dentists in NYC. He graduated from the USC School of Dentistry and furthered his education in aesthetic dentistry at the prestigious Las Vegas Institute (LVI). An active member of both the American Academy of Cosmetic Dentistry and the American Dental Association, Dr. Kosdon is a prominent leader in the field of cosmetic dentistry and continues to expand his knowledge and expertise through educational seminars and innovative training coursework. At his practice in Manhattan, he offers a wide array of cosmetic and restorative dentistry services, including porcelain veneers, Smile Facelift®, teeth whitening, and comprehensive smile makeovers.
To learn more, please visit smilesofnyc.com, veneers.nyc, and facebook.com/MichaelKosdonDDS. Dr. Kosdon is available for interview upon request.
Contact:
Michael Kosdon, DDS
150 East 58th Street
10th Floor Annex
New York, NY 10155
(212) 658-1440
Rosemont Media
(858) 200-0044
www.rosemontmedia.com