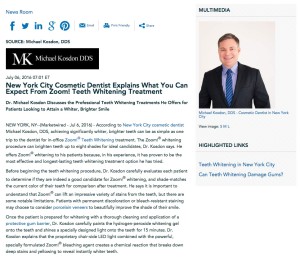 Dr. Michael Kosdon discusses the professional teeth whitening treatments he offers for patients looking to attain a whiter, brighter smile.
New York, NY – According to New York City cosmetic dentist Michael Kosdon, DDS, achieving significantly whiter, brighter teeth can be as simple as one trip to the dentist for in-office Zoom!® Teeth Whitening treatment. The Zoom!® whitening procedure can brighten teeth up to eight shades for ideal candidates, Dr. Kosdon says. He offers Zoom!® whitening to his patients because, in his experience, it has proven to be the most effective and longest-lasting teeth whitening treatment option he has tried.
Before beginning the teeth whitening procedure, Dr. Kosdon carefully evaluates each patient to determine if they are indeed a good candidate for Zoom!® whitening, and shade-matches the current color of their teeth for comparison after treatment. He says it is important to understand that Zoom!® can lift an impressive variety of stains from the teeth, but there are some notable limitations. Patients with permanent discoloration or bleach-resistant staining may choose to consider porcelain veneers to beautifully improve the shade of their smile.
Once the patient is prepared for whitening with a thorough cleaning and application of a protective gum barrier, Dr. Kosdon carefully paints the hydrogen-peroxide whitening gel onto the teeth and shines a specially designed light onto the teeth for 15 minutes. Dr. Kosdon explains that the proprietary chair-side LED light combined with the powerful, specially formulated Zoom!® bleaching agent creates a chemical reaction that breaks down deep stains and yellowing to reveal instantly whiter teeth.
When treatment is completed, the full results of Zoom!® Teeth Whitening are typically visible. To quantify the exact degree of improvement achieved, Dr. Kosdon once again shade-matches the patient's tooth color and compares it with the pre-whitening shade. Dr. Kosdon reports that patients are generally very pleased with the dramatic results they are able to achieve with Zoom!® Teeth Whitening. He says that a whiter, brighter smile not only improves the patient's appearance, but oftentimes he notices a considerable boost in their confidence as well. Dr. Kosdon often recommends occasional at-home teeth whitening treatments to maintain results of Zoom!® Teeth Whitening for as long as possible.
Ultimately, Dr. Kosdon believes Zoom!® Teeth Whitening provides a quick, cost effective way to noticeably enhance an individual's smile with lasting, measurable results. He encourages patients who are considering teeth whitening to seek out an experienced dentist in their area who performs Zoom!® Teeth Whitening services and can provide examples of their results.
About Michael Kosdon, DDS
Dr. Michael Kosdon is known as a leader in the field of cosmetic and restorative dentistry,  serving patients from coast-to-coast at his state-of-the-art offices in both Beverly Hills and New York City. A graduate of the prestigious USC School of Dentistry, Dr. Kosdon has also completed extensive continuing education coursework at the Las Vegas Institute of Advanced Dental Studies (LVI) to deepen his understanding of sophisticated dental procedures. At his offices, Dr. Kosdon performs dramatic smile transformations using porcelain veneers, dental implants, and advanced dental techniques and technology. Dr. Kosdon is an active member of several prominent dental associations, including the American Dental Association and the American Academy of Cosmetic Dentistry. He is available for interview upon request.
To learn more about Dr. Kosdon, please visit smilesofnyc.com.
Contact:
Michael D. Kosdon, DDS
New York Office
150 East 58th Street
8th Floor Annex
New York, NY 10155
(212) 658-1440
Beverly Hills Office:
465 N Roxbury Drive
Suite 701
Beverly Hills, CA 90210
(310) 853-8928
Rosemont Media
(858) 200-0044
www.rosemontmedia.com