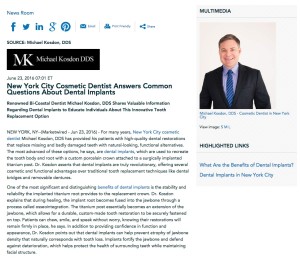 Renowned bi-coastal dentist Michael Kosdon, DDS shares valuable information regarding dental implants to educate individuals about this innovative tooth replacement option.
New York, NY – For many years, New York City cosmetic dentist Michael Kosdon, DDS has provided his patients with high-quality dental restorations that replace missing and badly damaged teeth with natural-looking, functional alternatives. The most advanced of these options, he says, are dental implants, which are used to recreate the tooth body and root with a custom porcelain crown attached to a surgically implanted titanium post. Dr. Kosdon asserts that dental implants are truly revolutionary, offering several cosmetic and functional advantages over traditional tooth replacement techniques like dental bridges and removable dentures.
One of the most significant and distinguishing benefits of dental implants is the stability and reliability the implanted titanium root provides to the replacement crown. Dr. Kosdon explains that during healing, the implant root becomes fused into the jawbone through a process called osseointegration. The titanium post essentially becomes an extension of the jawbone, which allows for a durable, custom-made tooth restoration to be securely fastened on top. Patients can chew, smile, and speak without worry, knowing their restorations will remain firmly in place, he says. In addition to providing confidence in function and appearance, Dr. Kosdon points out that dental implants can help prevent atrophy of jawbone density that naturally corresponds with tooth loss. Implants fortify the jawbone and defend against deterioration, which helps protect the health of surrounding teeth while maintaining facial structure.  
Because the placement of dental implants involves oral surgery and the cost of the procedure can amount to a fairly significant financial investment for many individuals, Dr. Kosdon notes that his patients commonly have a lot of questions about the dental implant process. Often, patients are initially concerned about whether or not they are good candidates for dental implants. Dr. Kosdon explains that patients who are suitable for the procedure are generally in good overall health, have relatively healthy teeth and gums, and have adequate jawbone density. He reminds potential patients that even if they are not considered good candidates at first, in many cases, oral health and structure can be improved through preparative dental procedures, periodontal treatment, and/or bone grafts. When placed by a skilled and experienced oral surgeon, today's dental implants have an extremely high success rate, reports Dr. Kosdon. He assures patients that in the event a complication does arise with implants, appropriate treatment administered swiftly can typically prevent escalation.
Ultimately, the functionality and natural aesthetic of dental implants make them a superior option for patients challenged by tooth loss, says Dr. Kosdon. He believes that everyone deserves to smile confidently, and he encourages anyone in need of cosmetic and/or restorative dental care to ask questions about which advanced treatments may be ideal for enhancing the health, beauty, and function of their teeth.
About Michael Kosdon, DDS
Dr. Michael Kosdon earned his DDS degree from the USC School of Dentistry and has furthered his dental training through post-graduate education courses at the Las Vegas Institute (LVI) for Advanced Dental Studies. At his practice's offices in Beverly Hills and New York City, he provides state-of-the-art dental care and is known for enhancing and transforming smiles with advanced aesthetic and restorative techniques, including porcelain veneers, dental implants, teeth whitening, and more. Dr. Kosdon is a member of several prominent professional associations, such as the American Dental Association and the American Academy of Cosmetic Dentistry. He is available for interview upon request.
To learn more about Dr. Kosdon, please visit drkosdon.com.
Contact:
Michael Kosdon, DDS
Beverly Hills Office:
465 N Roxbury Drive
Suite 701
Beverly Hills, CA 90210
(310) 853-8928
New York Office:
150 East 58th Street
8th Floor Annex
New York, NY 10155
(212) 658-1440
Rosemont Media
(858) 200-0044
www.rosemontmedia.com