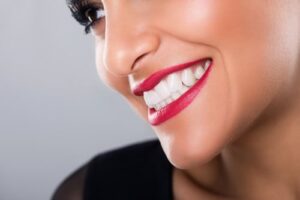 Whiter, brighter teeth can ultimately have a positive effect on your overall appearance, giving you more confidence every time you smile. Teeth whitening treatments have become more and more popular over the years, and there are numerous options available, both at the dentist's office and in your local supermarket, that claim to offer the best results. This naturally brings the question: what are the differences between professional teeth whitening performed during a dental appointment and an over-the-counter whitening solution?
Although there are many advanced teeth whitening brands you can find at the store, the fact is that in-office treatments often hold a number of advantages over them. These include:
A single treatment can provide near-instantaneous results
Higher-grade whitening solutions and stronger bleaching agents are typically utilized
Protection of the gums from the bleaching effects
Supervised by a dentist to ensure the best possible results
Here at the practice of Dr. Michael Kosdon, we offer both professional in-office teeth whitening treatments as well as take-home whitening trays. Our at-home tray teeth whitening kits are customized for each patient, as opposed to the one-size-fits-all approach you will find in over-the-counter whitening solutions.
All in all, it's often necessary to have in-office teeth whitening procedures if you are looking to achieve the most customized and noticeable results in the shortest amount of time. If you'd like to whiten your teeth on your own, Dr. Kosdon can take an impression of your teeth and create custom trays that you can take home. At-home options may take a little longer for the best results, but if you would rather not have an in-office whitening treatment, Dr. Kosdon believes they are still preferable to an over-the-counter solution. Remember, your smile is one of your most important features and not something to take chances on!
If you have questions about teeth whitening treatment, or if you would like to schedule a consultation with Dr. Kosdon, please contact us today.